---
IgA nephropathy is the most common primary glomerulonephritis and greatly contributes to the burden of chronic kidney disease. It often affects younger adults between 20 and 30 years of age, who should be in the prime of their early adulthood.1-3
A retrospective cohort study showed 
~30% of patients
experience kidney failure within 10 years when their time-averaged proteinuria ranges from 0.5 g/day to <1 g/day4,*,†    

*0.88 g/g is approximately equivalent to 1 g/day.
†Data from retrospective cohort of 2299 adults and 140 children with IgAN of the UK National Registry of Rare Kidney Diseases (RaDaR). Patients enrolled had a biopsy-proven diagnosis of IgA nephropathy plus proteinuria >0.5 g/day or eGFR <60 mL/min/1.73 m2. Analyses of kidney survival were conducted using Kaplan-Meier and Cox regression. Availability of patient medication and blood pressure data was a limiting factor in this study.
Heterogeneity in IgA Nephropathy
---
The heterogeneity of clinical and pathological features, as well as disease progression journey of IgA nephropathy, may demand a tailored approach to care3,5
Clinical presentation can vary5,6:
Asymptomatic: microscopic hematuria and/or proteinuria

Symptomatic: gross hematuria, foamy urine, or nonspecific symptoms related to presence of hypertension and kidney decline
Pathological features5,6:
The level of C3 accumulation in the glomeruli can vary among patients and may be an indicator of prognosis
Disease progression5,6: 
Progression to kidney failure following biopsy has ranged from ~5 years to ~30 years across ethnic populations
Hear From a Real Patient Living With IgA Nephropathy7
---
"You may look well on the outside.... Inside, you feel as if you are filled with lead. Even getting out of bed to get a drink of water can be difficult on a bad day."7
— A real patient with IgA nephropathy
Assessing Diagnosis and Prognosis
---
Per KDIGO guidelines, diagnosis of IgA nephropathy can only be made with a biopsy.3
Collaborating with an expert renal pathologist to interpret the pathology report is crucial to understanding a patient's unique prognosis and managing them accordingly.3
Potential indicators for disease progression can vary from patient to patient and are important to assess3,8: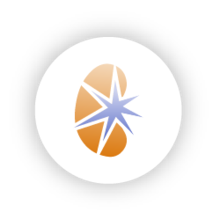 C3 deposition in the glomeruli can indicate accelerated disease progression for patients with IgA nephropathy

High proteinuria levels can indicate high risk for progression, as KDIGO guidelines define high-risk patients as those with proteinuria >0.75 to 1 g/day, despite 3 months of optimized supportive care

The MEST-C score is an indicator for diagnosis and prognosis in IgA nephropathy and must be assessed via biopsy by a renal pathologist

The International IgA Nephropathy Prediction Tool predicts long-term risk of worsening kidney function, measured as a 50% reduction in eGFR for the development of kidney failure. Access the tool here
Initial management of IgA nephropathy, per KDIGO guidelines, involves supportive care, including a maximally tolerated dose of ACEi/ARB and lifestyle modifications.3,9
IgA Nephropathy and the Complement System
---
1. Complement overactivation can play a key role in disease progression of IgAN11,12
2. Complement dysregulation is a key driver* in glomerular inflammation in IgAN12,13
*Not in all cases.
IgAN is a complement-mediated autoimmune renal disease initiated by the accumulation of galactose-deficient IgA1 antibodies in the mesangium. The pathophysiology of IgAN comprises several inflammatory steps within a "multi-hit" model. The 4th hit in the multi-hit model can activate the alternative, and to a lesser extent, the lectin complement pathway, and may result in inflammation, kidney damage and disease progression.11,12,14,15
Overactivation of the alternative pathway, or less often, the lectin pathway, contributes to inflammation and host cell injury. Some studies have found that intensity of C3 staining on kidney biopsy is associated with increased progression to kidney failure.12,13,20
Progression in IgA nephropathy is associated with glomerular complement deposition12,13,20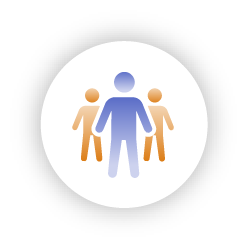 C3 deposition is present in the majority of patients with IgA nephropathy12,13,20

Kidney biopsies from patients with progressive disease have more staining for C3b/iC3b/C3c, C3d, C4d, and C4b912,20
Collaborating with an expert renal pathologist to interpret the pathology report is crucial to understanding a patient's unique prognosis and managing them accordingly.3,12,20
For Patients With Progressive IgA Nephropathy, the Burden Can Be Significant3,15
---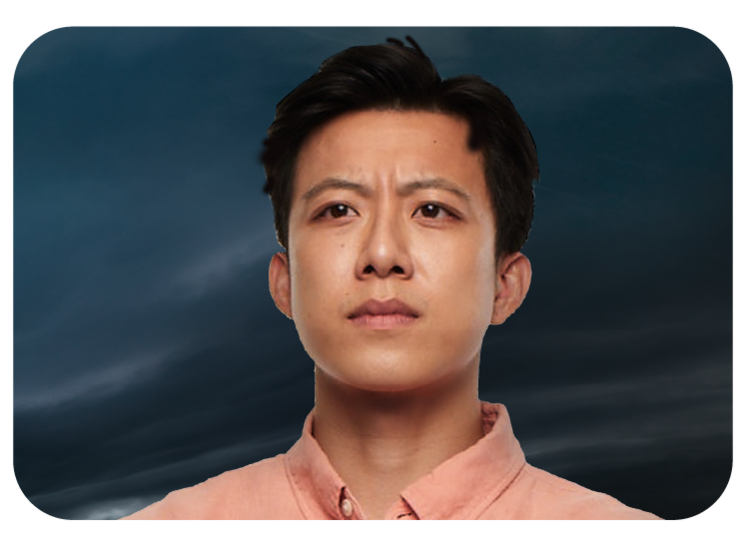 Patients may struggle emotionally with the uncertainty of outcomes and the potential for progression to kidney failure11,21

Physically, some patients may struggle daily with disease symptoms, such as chronic fatigue, edema, insomnia, and hypertension. Some may continue to be at risk for disease progression, defined by persistent proteinuria >1 g/day, despite being on optimized supportive care3,15

Supportive care and steroids may reduce immediate symptoms but may cause side effects that can make day-to-day life challenging3
Hear From a Real Patient Living With IgA Nephropathy7
---
"The possibility of needing frequent dialysis or to be placed on a transplant list is frightening. And in the case of a transplant, there is a good chance the disease will reestablish in the transplanted kidney."
"It seems like I can never get enough sleep….even if I'm in a meeting, I struggle to keep my eyes open."
"You never know waking up how the day is going to be. While you may feel fine in the morning, the afternoon can change very quickly."
"Assuming there is no complete cure for IgAN, I wish for a medication capable of slowing its progression and relieving its physical burdens."
Sign up to stay informed about IgA nephropathy
See the mechanism of disease (MOD) for IgA nephropathy
View the MOD for IgA nephropathy
ACEi, angiotensin-converting enzyme inhibitor; ARB, angiotensin receptor blocker; C3, complement 3; ECM, extracellular matrix; eGFR, estimated glomerular filtration rate; IgAN, immunoglobulin A nephropathy; KDIGO, Kidney Disease Improving Global Outcomes; MAC, membrane attack complex.
References: 1. Rodrigues JC, Haas M, Reich HN. IgA nephropathy. Clin J Am Soc Nephrol. 2017;12(4):677-686. 2. Schena FP, Nistor I. Epidemiology of IgA nephropathy: a global perspective. Semin Nephrol. 2018;38(5):435-442. 3. Rovin BH, Adler SG, Barratt J, et al; Kidney Disease: Improving Global Outcomes (KDIGO) Glomerular Diseases Work Group. KDIGO 2021 clinical practice guideline for the management of glomerular diseases. Kidney Int. 2021;100(suppl 4):S1-S276. 4. Pitcher D, Braddon F, Hendry B, et al. Long-term outcomes in IgA nephropathy. Clin J Am Soc Nephrol. 2023;18(6):727-738. doi:10.2215/CJN.0000000000000135 5. Yeo SC, Goh SM, Barratt J. Is Immunoglobulin A nephropathy different in different ethnic populations? Nephrology (Carlton). 2019;24(9):885-895. 6. Rajasekaran A. Julian BA, Rizk DV. IgA nephropathy: an interesting autoimmune kidney disease. Am J Med Sci. 2021;361(2):176-194. 7. Feldman DL, White EM, Julian B, et al. The Voice of the Patient: Externally Led Patient-Focused Drug Development Meeting on IgA Nephropathy. National Kidney Foundation; 2020. 8. Xie M, Zhu Y, Wang X, et al. Predictive prognostic value of glomerular C3 deposition in IgA nephropathy. J Nephrol. 2022;36:495-505. doi:10.1007/s40620-022-01363-4 9. Data on file. Immunoglobulin A nephropathy (IgAN) fact sheet. Novartis Pharmaceuticals Corp; August 2022. 10. Cheung CK, Rajasekaran A, Barratt J, Rizk DV. An update on the current state of management and clinical trials for IgA nephropathy. J Clin Med. 2021;10(11):2493. doi:10.3390/jcm10112493 11. Lafayette RA, Kelepouris E. lmmunoglobulin A nephropathy: advances in understanding of pathogenesis and treatment. Am J Nephrol. 2018;47(suppl 1):43-52. doi:10.1159/000481636 12. Rizk DV, Maillard N. Julian BA, et al. The emerging role of complement proteins as a target for therapy of IgA nephropathy. Front Immunol. 2019;10:504. doi:10.3389/fimmu.2019.00504 13. Medjeral-Thomas NR, Cook HT, Pickering MC. Complement activation in IgA nephropathy. Semin Immunopathol. 2021;43(5):679-690. 14. Medjeral-Thomas NR, O'Shaughnessy MM. Complement in IgA nephropathy: the role of complement in the pathogenesis, diagnosis, and future management of IgA nephropathy. Adv Chronic Kidney Dis. 2020;27(2):111-119. doi:10.1053/j.ackd.2019.12.004 15. National Institute of Diabetes and Digestive and Kidney Diseases. IgA nephropathy. National Institutes of Health: 2015. Accessed April 11, 2023. https://www.niddk.nih.gov/health-information/kidney-disease/iga-nephropathy 16. Lai KN, Tang SCW, Schena FP, et al. IgA nephropathy. Nat Rev Dis Primers. 2016;2:16001. doi:10.1038/nrdp.2016.1 17. Barratt J, Feehally J. IgA nephropathy. J Am Soc Nephrol. 2005;16(7):2088-2097. 18. Caravaca-Fontan F, Lucientes L, Cavero T, Praga M. Update on C3 glomerulopathy: complement mediated disease. Nephron. 2020;144(6):272-280. 19. Harris CL. Expanding horizons in complement drug discovery: challenges and emerging strategies. Semin Immunopathol. 2018;40(1):125-140. 20. Medjeral-Thomas NR, Troldborg A, Constantinou N, et al. Progressive IgA nephropathy is associated with low circulating mannan-binding lectin-associated serine protease-3 (MASP-3) and increased glomerular factor H-related protein-5 (FHR5) deposition. Kidney Int Rep. 2017;3(2):426-438. 21. Carter SA, Gutman T, Logeman C, et al. Identifying outcomes important to patients with glomerular disease and their caregivers. Clin J Am Soc Nephrol. 2020;15(5):673-684. 22. Huang X, Xu G. An update on targeted treatment of IgA nephropathy: an autoimmune perspective. Front Pharmacol. Published online August 23, 2011. doi:10.3389/fphar.2021.71525325